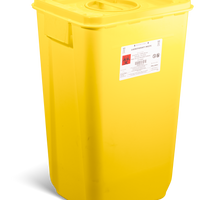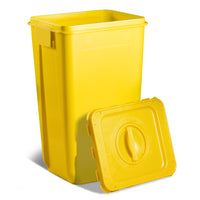 18 Gallon Trace Chemo Collection Bin System
Description
18-gallon disposal systems are convenient and cost-effective solutions for the proper disposal of trace chemo waste.
Trace chemotherapy waste can include IV tubing, medicine bags, vials, or any part of the tubing and needle system that delivers the chemotherapy drug to a patient. However, personal protective equipment (PPE), towels, wipes, and pads may come in contact with chemotherapy drugs as well, and proper disposal is mandatory. Trace-Chemo - meaning only trace amounts (less than 3% of total volume).  All Sharps must be placed in a separate sharps container first before placing into this system, loose sharps are not allowed in this system.

These systems replace costly pick-up services and are perfect solutions for your practice.  When you are ready, simply place the full container in the prepaid return shipping box and leave it for your regular carrier to pick up. It's that easy!  Loose sharps cannot be placed directly in this system.  They must be contained in an OSHA-approved sharps container or equivalent prior to shipping. 
Features
FEATURES
Prepaid return shipping box for convenient return 

Hinged lid to minimize smells

Leak- and puncture-resistant containers to store and safely transport full OSHA-approved sharps containers

Pre-filled manifest simplifies the return process

Compliance tracking and notifications

Certificate of destruction automatically sent via email and available for download
Advantages
Reduces your costs by as much as 50%

Purchase as needed

No contracts, monthly fees, pickup fees, or fuel surcharges
Dimensions
L - 15.91" x W - 13.19" x H - 25.20"
Manifest & Disposal
All PureWay Sharps chemo disposal systems come with a waste manifest (the four-part form used for tracking purposes for commercial healthcare facilities) that is needed to properly document and track your disposal of each system. All completed manifests can be found online through our tracking portal (connect.PureWay.com) once the system has been returned using the prepaid USPS shipping label included within 10 business days.
Shipping Details
Each system comes with a prepaid return USPS shipping label. Instructions are provided that detail how to properly seal and ship your system using the contents included. All PureWay Sharps Disposal systems have everything you need to safely close and ship to an authorized disposal site.